Impacts of the coronavirus pandemic in Canada Immigration Services
Most of the countries around the globe are currently being affected by the coronavirus pandemic, including Canada. Like many other nations, Canada is implementing measures to protect its population and contain the spread of the virus. Keep on reading to obtain more details on those measures and understand their impact on Canada immigration services.
TRAVEL RESTRICTIONS IN CANADA BY AIR
One of the major measures Canada implemented this March is restricting non-essential travel. Canada is currently denying boarding to all foreign nationals on flights to Canada coming from all countries, but there are exceptions.
Permanent residents, citizens, and their immediate family members can enter the country. Foreign nationals traveling from the United States who have been in the US for at least 14 days and are asymptomatic may also enter Canada by air.
By an immediate family member of citizens and permanent residents, the Canadian government means a spouse or common-law partner; dependent children; dependent children of the spouse or common-law partner; parent or step-parent of the person or the person's spouse or common-law partner; guardian or tutor.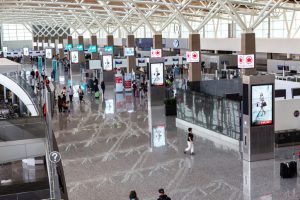 Canada also exempted other groups from the travel restrictions. Such as people registered under Canada's Indian Act; protected persons; foreign nationals traveling at the invitation of the Canadian government for a purpose related to the containment of COVID-19 and transiting passengers.
On March 26th, Canada updated the travel restrictions. The government announced that approved temporary and permanent residents who haven't yet landed are now able to enter Canada. More specifically, temporary foreign workers and international students who have a valid study permit or who were approved for a study permit before March 18, 2020, can now enter Canada. Also, foreign nationals who were approved for permanent residence before March 16, 2020, but who hadn't yet traveled to Canada, are now exempt from these restrictions.
TRAVELING TO CANADA DURING THE CORONAVIRUS PANDEMIC
Besides the restrictions, Canada has announced the creation of the COVID-19 Emergency Loan Program to help Canadians abroad to return home. However, Canada always recommends its citizens to try to return home using their own financial means.
If traveling by air, the person needs to pass a health check before boarding the flight. Anyone who shows symptoms of COVID-19 will not be allowed to enter Canada by air. Also, Canada will assess the health of all people landing before they leave the port of entry. All people arriving in Canada must isolate for 14 days even if they are not presenting symptoms. This is a mandatory safety measure imposed by the government of Canada.